Q&A with Source Vitál Apothecary about how to take care of my skin at 40 + a Mother's Day Giveaway!
Since I turned 40 I've become more aware of taking care of my skin, although I must confess that I wish I would've started sooner, but it's never too late. There are so many options in the market these days like serums, infusions, and creams, that it has become harder and harder for me to find out what's really best for me. So, that's why I decided to ask an expert in this matter.
Today I share with all of you a Q&A session I had with the natural skin care specialists at Source Vitál Apothecary.
Source Vitál Apothecary is a Houston-based company with more than 30 years of experience in skin care. They were the pioneers of Holistic Skin Care with products made in small batches with 100% natural ingredients.
Scroll down for a Giveaway!
Q
What ingredients are your products made of, and how will they help me achieve a younger-looking skin?
A
Source Vitál Apothecary only uses natural ingredients in all their products. A combination of Seaweed, Essential Oils and Botanicals go into each formula carefully developed by a Naturopathic Doctor using Holistic Healing & Chinese Medicine. Our Ageless Starter Kit includes products that have ingredients like Evening Primrose, Borage, Lavender, Aloe, Jojoba, Hemp, Shea Butter, Coconut Oil, & many other known super foods.
Q
What's the difference between a serum, an infusion, and a cream?
A
You want to think of your infusions as something more corrective, a serum as nourishment, and your cream as a protective barrier of hydration.
Q
In what order should I use the products of the Ageless Skin Starter kit? What should my step-by-step skin care routine be?
A
Step 1: Cleanse with Geranium Cleanser: Your face routine should always incorporate your neck and chest, so when I say cleanse, I mean your face, neck, and chest.
Step 2: Aply 4-5 drops of Algae Serum Rose with 3-4 drops of Restorative infusion into the palm of your hand and then distribute it to the face, neck, and chest.
Step 3:. If AM- Apply Soothing Cream all over the face, neck, and chest.
Step 4: If PM- Apply Night Repair Cream all over face, neck, and chest.
Step 5: Finally finish with your Cucumber Eye Cream on your eye area. If your eyes tend to get puffy, keep it in the refrigerator, as the cold cream will help ease the puffiness faster.
Q
What's the difference between a Cleanser, a Make-Up Remover, and a Micellar Water? How do I know which one is best for me?
A
Well, a makeup remover usually is just that, something that will remove your makeup. Micellar Cleansing Water & a Cleanser are almost the same. Here are the main differences: a Cleanser, requires water to wash away impurities, Micellar Water does not require rinsing. A regular cleanser will do a deeper cleanse, whereas Micellar Water is more of a quick cleansing. I think of it this way, if I know that I don't have much time, I just use Micellar Water, I wipe one time to remove the makeup, and a second time to really cleanse the skin. I cleanse when I have more time. But both cleanse the face.
Q
If you could give me one tip of the most important thing I should do to keep a younger and healthier looking skin in my 40's, what should it be?
A
Cleanse your face with a quality product that is correct for your skin type. So many people go without washing their skin on a regular basis. In your teens & 20's you could get away with it, but as our skin ages, it can no longer be treated in the same fashion, and you can't continue to use the same cleanser you were using when you were that age either.
Thanks so much to Sophia Peon-Leyva from Source Vitál Apothecary for sharing with us this valuable information.
So now you know, if you want to start taking care of your skin with natural products, free of GMO's, synthetic fragrances and colorants, pharmaceuticals, and any other harsh chemicals, Source Vitál Apothecary is the brand for you.
Today we have a Mother's Day Giveaway!
We are going to raffle an Ageless Skin Starter Kit plus a Micellar Water exclusively to Yo Mariana subscribers. Winner will be announced on Sunday May 14th!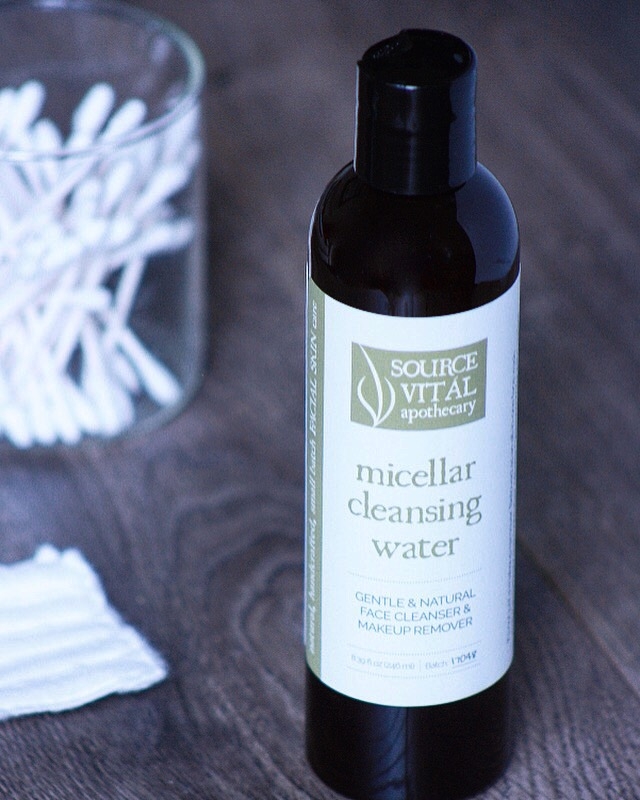 Just click here to participate and follow the instructions.
Restrictions: by entering the raffle you agree to be subscribed to Yo Mariana's and Source Vitál Apothecary's newsletters. Shipping only in the U.S.
Thanks so much to Sophia Peon-Leyva for sharing with us all her valuable knowledge. Sophia started her passion in the beauty industry in 2005 doing hair in El Paso, TX. In 2006, she moved to Houston where she began exploring her love of sharing her knowledge with others. She has since been in many avenues of the beauty industry working with thousands of hair stylists training them on color, cuts, & sales techniques all over the United States. She has worked with various companies including Wella, Sebastian, Goldwell & KMS. She has dedicated her life to all things natural and is now pursuing her love of natural holistic health & skincare. She loves sharing her passion with others and loves the industry.
Sophia Peon-Leyva - Licensed cosmetologist & Source Vitál's Technical Sales Person.
This is a sponsored conversation written by me on behalf of Source Vitál Apothecary. The opinions, photographs and text are all mine. #ad